CHARACTERISTICS OF THE CLASSES
Thinking about the youngest, SK Talent offers activities for pre-school children. We focus on a smile and great fun. The gym is a paradise for the youngest children. We develop flexibility, strength as well as courage and self-confidence through games. We focus on safety. Every acrobatic trick is performed with the use of the appropriate mattresses. In our classes, children's dreams about flying come true. Children enter the world turned upside down, developing motor skills.
CLASS PROGRAMME
The acrobatic training that we offer to the youngest children consists of movement games and activities based on gymnastics. Children learn to perform simple elements such as forward and backward rolls, handstands, bridges, splits. In the programme we also have elements of acrobatic figures. A well-equipped gym allows you to do tricks with horizontal bar and balance beams. Children have the opportunity to become acquainted with all gymnastic equipment that exist. In order to ensure good fun for our youngest members of the SK Talent group, we make simple positions on aerial wheels and ribbons.
BENEFITS
Building motor skills such as strength, flexibility, motor coordination, agility, balance,
Health-oriented gymnastics, the aim of which is the proper development of the child,
The instilling of a positive attitude to sports and physical recreation,
Good fun.
FOR WHOM
Classes are intended for children aged 4-6.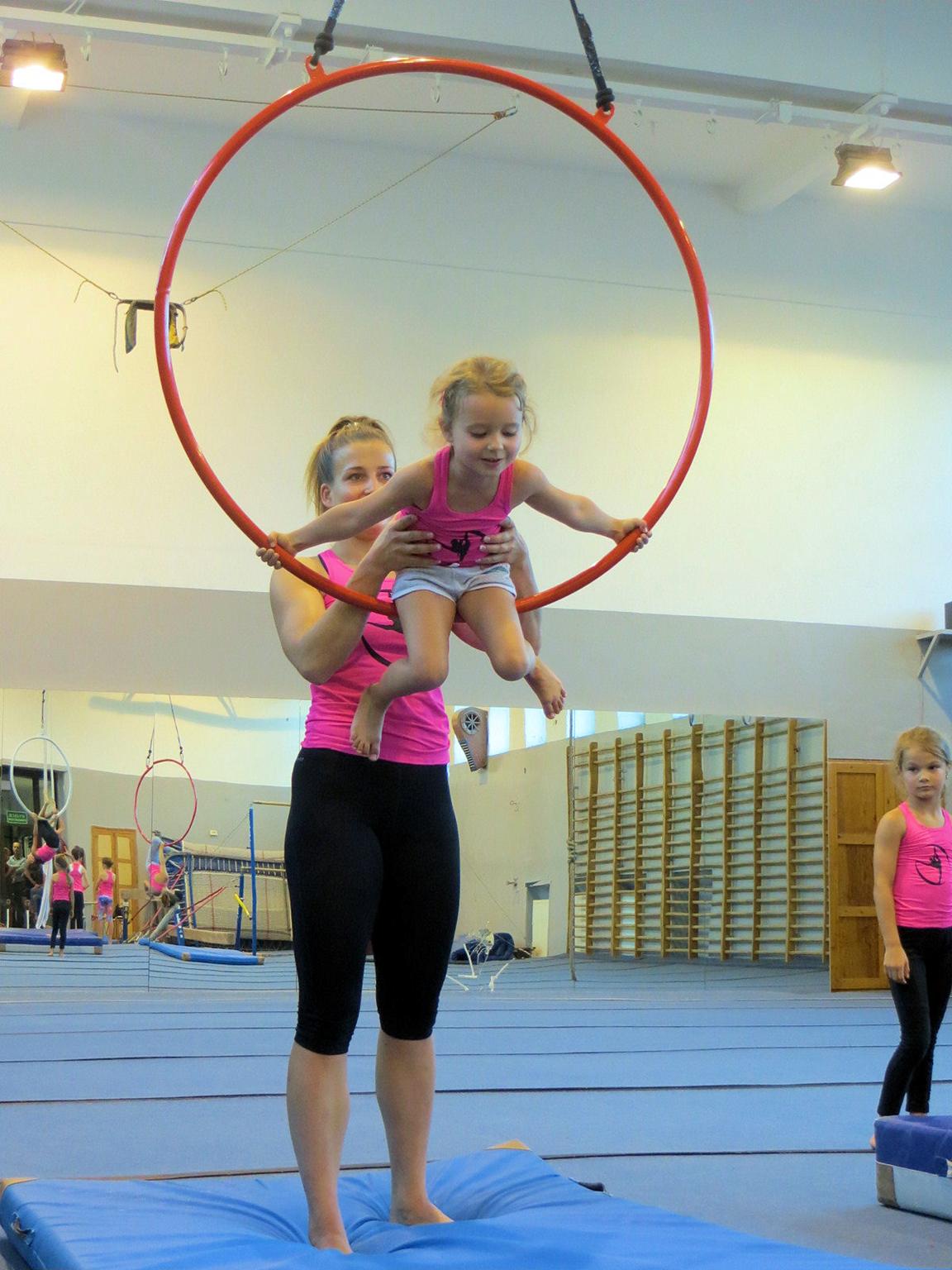 SK Talent – aerial ribbon and wheel acrobatics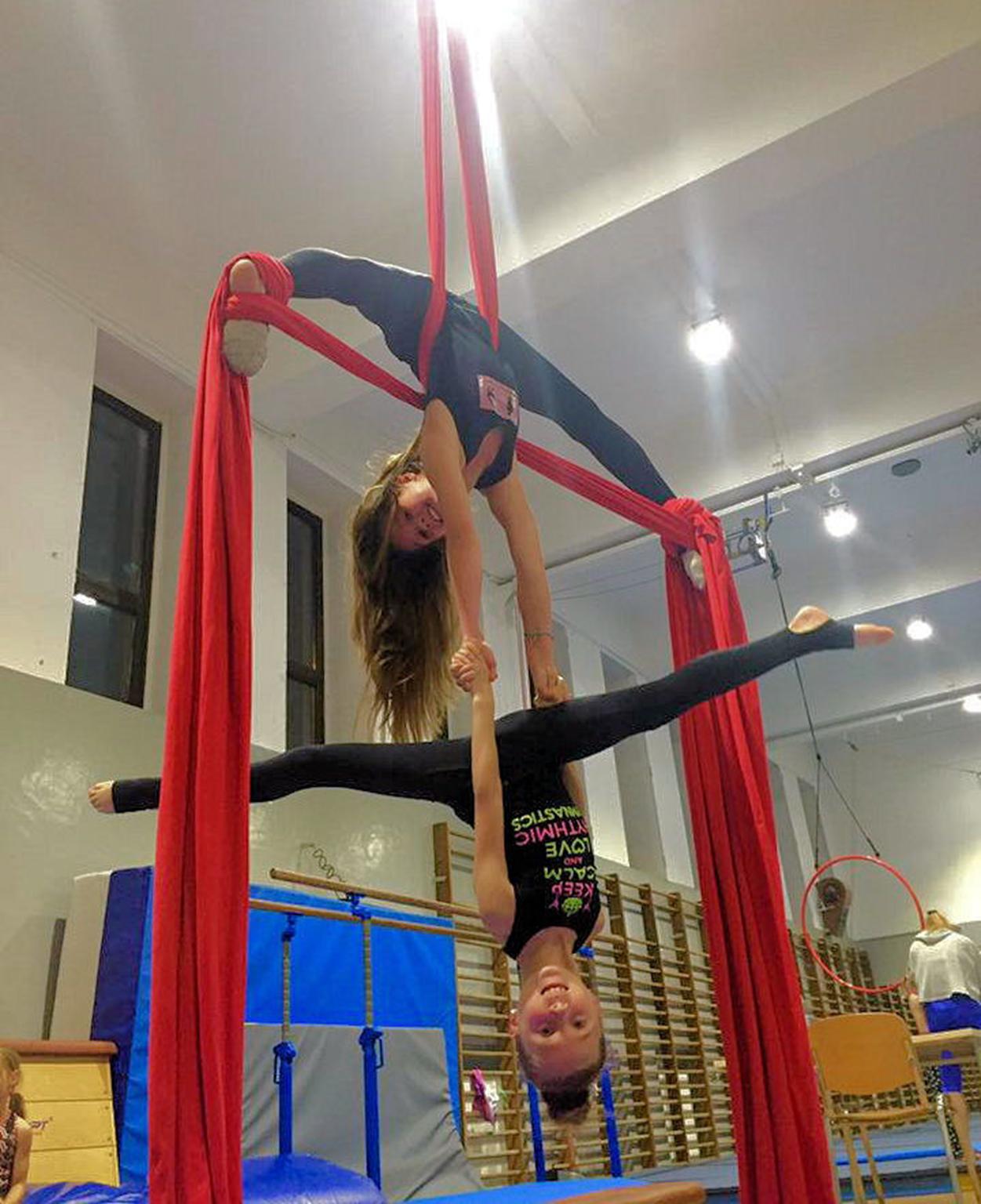 CHARACTERISTICS OF THE CLASSES
SK Talent as the first school in Silesia and one of the few schools in Poland offers innovative sports and art activities with aerial wheels and ribbons. This art is very popular abroad. There is a federation in which children, adolescents and adults participate in aerial ribbon and wheel competitions. The rivalry and the goal of achieving the championship is an additional positive incentive to practice this discipline. We focus on safety. Gymnastic figures with ribbons and wheels are performed at heights appropriate to the level of advancement. We have a rich and very professional equipment to protect against injuries. We use mattresses, sponges, floors and many other devices which minimizes the risk of injury. Children do not need to have an early gymnastic skills to participate in classes. Our programme is carried out completely from scratch.
Our goal are acrobatic shows, sport and recreational performances, acrobatic and artistic performances, i.e. a combination of culture, art and sport.
CLASS PROGRAMME INCLUDES
Learning basic acrobatic elements, stretching, strengthening and coordination exercises,
Using ribbons and wheels to perform gymnastic positions being suspended in the air,
Creating choreography for music using ribbons and acrobatic wheels.
BENEFITS
Recreational acrobatic training ensures proper motor development of a child. It gives preparation for flexibility, speed, strength, agility, which are the basis of all other sports.
Good fun and innovative training equipment trigger a lot of positive emotions at training, which increases the positive attitude of children to play sports.
FOR WHOM
Classes are intended for children aged 7-14.
SK Talent - Acrobatics for children
CHARACTERISTICS OF THE CLASSES
Acrobatics is a beautiful sport. It combines elements of both strength and ballet. It is amazingly spectacular, and teaches the grace of movement. It gives a motor base for almost any other sports disciplines. It develops agility, flexibility, coordination and strength.
CLASS PROGRAMME
The class programme includes the basics of acrobatics and gymnastics. We teach elements such as handstands, forearm stands. Balance on hands, flips, front and back walkover, side flip, one hand side flip and side flip without hands. There are a lot of stretching and strengthening exercises in the classroom to adapt the body to perform more and more difficult acrobatics.
BENEFITS
Adapting the body to perform acrobatic tricks,
Understanding the basics of acrobatics,
Learning the proper technique of acrobatic elements,
Necessary preparation for pole dance and modern jazz elements,
Good fun.
FOR WHOM
For everyone who wants to improve their acrobatic technique.
An open gym under the supervision of a trainer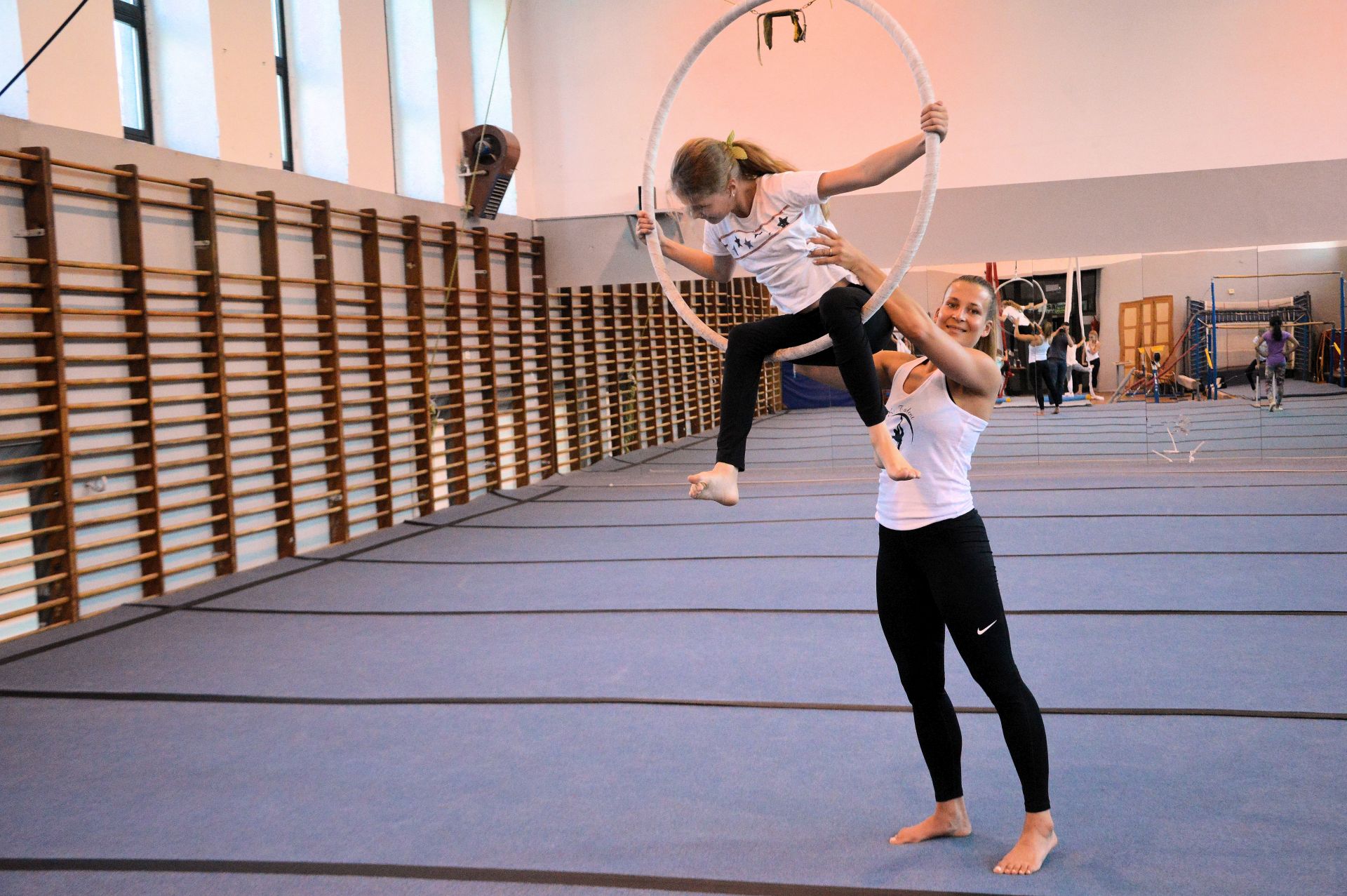 Time for your own training under the supervision of a trainer. It is for our students and for those who are not connected with SK Talent.
This is the time your instructor will devote exclusively to YOU!
Take advantage of this opportunity!!!
Individual trainings are a great complement to group activities. Thanks to this form of training, you develop your knowledge and skills much faster
Even today write an e-mail giving your name, surname and choosing your trainer, entering "individual training" in the subject line. We will arrange a convenient date with you!
Now individual trainings for children, women and men - EVERYONE can have an instructor exclusively!!